Colors create an interesting contrast and can impact how we perceive a space. Colors have the power to alter the entire mood of the room. The right color can change the appearance of a wall, a ceiling, or even wallpaper and tiles. Color trends depend mainly on the season, year, and personal preference. The color trend for 2022 will change significantly from previous years. The problem, however, is deciding upon the right color or colors for your space. If you are choosing a color for your home, trendy colors can make a big difference.  
Color trends in 2022 will show big differences from the passing years. The new color trend is largely more to feel calm and soothing. In the past few years, color trends showed crazy contrasts. The emphasis was almost always on neon colors or other such vibrant colors. Instead, future color trends settled for subtle color combinations.
The latest color trend follows against creating chaos. It promotes harmony in colors to soothe your mood and encourage relaxation. The color trend is following color combinations to ensure a comfortable and relaxed stay at your home. In the period of pandemics all over the world, your home should ensure a pleasant experience. Hence the recent drastic change in color trend, which is a sharp shift towards cool colors. So, you will need harmony instead of dissonance to ensure a comfortable stay.
Based on the latest color trends for your room, we will show you what's hot and what's not. We will take you on a tour of different colors in single or combination to meet all your expectations. We will assist you to find out the key color trends you need to consider for the year 2022.
Color Trends- What's Hot and What's Not?
We have highlighted a few trending colors so you can get a better idea of which color to use. These are the colors that will continue to dominate interior design in 2022. The following article describes some colors that you may consider using for your home.
Blue Color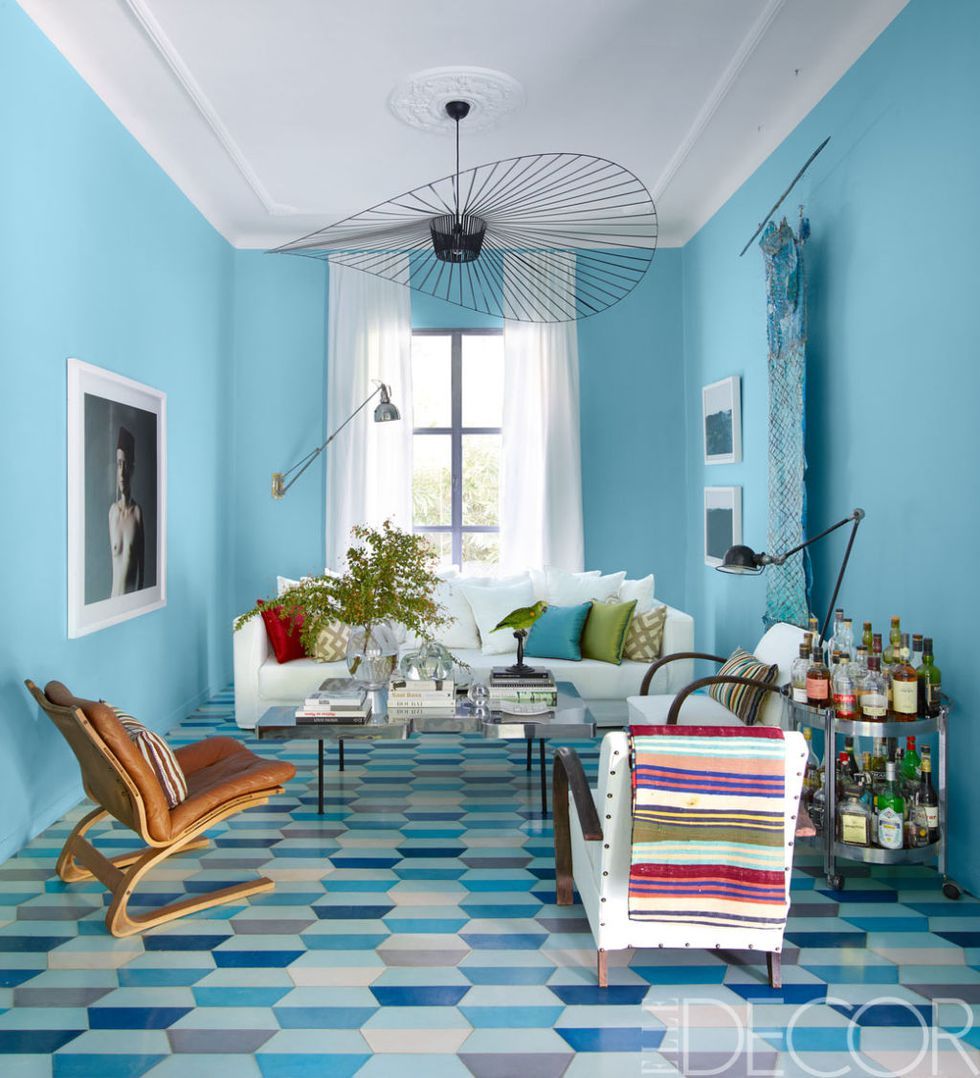 People all over the world are craving positivity after such a challenging year due to the COVID-19 pandemic. You can use blue as an accent color when you need tranquility in a room. Therefore, blue has taken the top spot on the top trending colors for interior decorating in 2022. Designers frequently pay special attention to the contrast between blue shades, like royal blue, cobalt blue, and ocean blue.
There are many benefits to blue. It is a calming, creative, and positive color. In addition to loyalty, strength, and trust, it represents wisdom. The color blue is the most pleasing color for most people, regardless of age or gender. According to researchers, among all colors, blue is considered to be the most masculine, next to black. In addition to this, it is also associated with knowledge, intelligence, calmness, and concentration.
Green Color
Most people consider green the most relaxing color. Green is a comforting, healing, and balancing color. In everyday life, the color green gives us a feeling of comfort, liveliness, and nature. Prosperity, fertility, abundance, and the growth of positive energy are all symbolized by it. Hence, it is suitable for almost all rooms. The result is that those rooms feel colder and more spacious than usual.
Nature is represented by the color green. Green is therefore symbolically associated with life, energy, vitality, youthfulness, optimism, and ambition. During the time of the spread of the pandemic, the green will help you heal your negativity. A healthy green environment can boost your mental health in several ways, such as reducing anxiety, stress, and depression. 
Therefore, interior designers emphasize green color while considering the color combination like peacock green, hunter green, Dartmouth green, etc. Mostly, we have noticed green serving as a contrast color that matches well with lighter pale colors. You can create a relaxing atmosphere in your room by including green décor. When you incorporate green hues into your space, you will feel closer to Mother Nature.
Purple Color
In 2022, people are looking for harmony. Color trends in new designs are going to be inspired by this desire for unity and togetherness. In recent years, we've seen a gradient trend taking over into the analogous palette trend. Among the most popular color trends in the upcoming period are analogous color palettes, particularly purple and pink. Its popularity continues to grow, as purple has had a big comeback in design in recent years. This makes it a good fit for brands that have a more exclusive or luxury simultaneously
It is possible to see that some of these harmonious color palettes use the same shades of color. However, some are collections of shades that are adjacent to each other on the color wheel. The shades of purple and pink go hand in hand, creating a harmonious flow between the two. A gradient-like effect is created but without the perfect color transitions.
Conclusion
There will be an abundance of colors and combinations which are taking top-notch trends for interior designing. Black and white add a sense of simplicity, elegance, sophistication, cleanliness, and freshness to any décor. Brown is another trendy color that brings a sense of calm, comfort, and neutrality to a room. Gray has become the hot new color to wear. Colors like blue-grey are both classic and contemporary, and some never expire. In this trending color list, marigold is a new color coming up gaining popularity for its youthful and gender-neutral qualities. 
The above are just some suggestions to help you create your dream home. The decision of which color to put for your interior among the trendy ones rests with you. Decide what your preferences are, and then pick out the latest trendy color that is perfect for you.